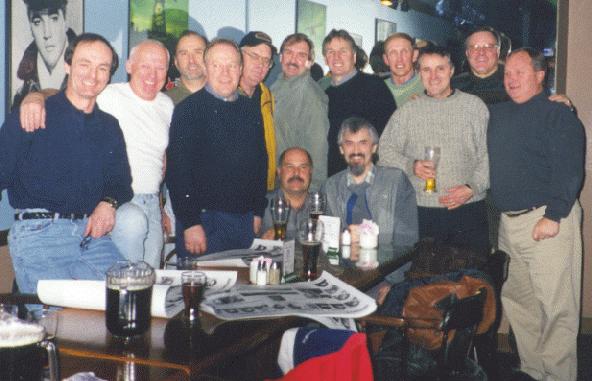 These Rams from the late 60's and early 70's were reunited after about 30 years. Most of them played in the hockey game but some just came to socialize. Brian Jones, (black sweater in the middle of the back row) was the coach. And no, Elvis did not play for the Ryerson Rams.
From L to R Standing: Ron Wynn, Ken Collins, Gary Potter, Ken Greenwood, Brian Shelton, Larry Locke, Brian Jones, Seppo Ruuska, Tony Mokohonuk, Ron Watson, George Babcock. Sitting: Dave Hawn & Bobby Eng
The article below, along with a picture of the participating players, appeared in the spring 2000 RYERSON MAGAZINE…
On January 29, Ryerson Rams alumni from Toronto, Winnipeg, Buffalo, Orillia, Kincardine, Kingston and Ottawa assembled at St. Michael's Arena in Toronto for the second annual Ryerson Rams Alumni hockey game.
Players on the Blue and the Gold teams spanned three decades 1967 through 1998. The game was tied at 3-3 with just three minutes remaining when the Gold team scored a power play goal to pull ahead. this forced the Blue team to open up and try to score, which resulted in the Golds scoring two more goals in the last two minutes for a 6-3 victory.
After the game, before retiring to a nearby pub to reminisce about old times, a $300 cheque was presented to Chuck Mathies, assistant director of Interuniversity Athletics.
According to one of the organizers, Frank Sheffield (Business Management '79), there is so much interest in upcoming Rams hockey games that the next event may be a small round robin tournament.
Other planned Rams get-togethers include a golf tournament on Saturday, July 8, 2000 at Mill Run in Uxbridge. Profits from each event will benefit Ryerson's current athletic program.