On January 20, 2001, young and old Ryerson Rams Hockey Alumni got together to lock horns at St. Mike's Arena. Twenty nine players from as early as 1951 to as recent as 1998 came from as far away as Calgary, Winnipeg, Ottawa and London to meet with old team mates and friends, relive old times, tell a few jokes and of course, play a little hockey.
The exciting game was not decided until a last minute goal when the line of Michael Gabbana, Kirk Stover and Anthony Miele proved to be too hot for Team Blue to handle in the 3rd annual "Blue & White" game.
Michael Gabbana opened the scoring for Team White at 10:47 of the first period and that goal held until Darren Matias tied the game at 6:21 of the second. Kirk Stover, the player of the game, answered back with two goals during one shift late in the second period to give Team White a 3-1 lead.
Mick Mitrovic brought Team Blue to within 1 goal in the first minute of the third period and if not for the outstanding goaltending of Bob Stoddart, who last wore a Ram's uniform in 1969, the game surely could have been tied several times. Stoddart foiled several chances by Team Blue including a break away opportunity late in the second period when Team Blue was applying heavy pressure.
With 52 seconds left in the third period, Anthony Miele secured Team Blue's fate by adding a goal to his two previous assists. The Miele, Stover, Gabbana line potted all 4 goals for Team White and shared nine points between them on the evening.
After the alumni game the current Rams faced off against Royal Military College. The Rams continued their winning ways from their fine effort the night before with back to back wins over Queens University 6-3 and RMC 6-4. To read more about the current team, click on one of our links to their web site.
A Ram For 50 Years
Julian Smith coached the Rams in 1951-52 and played for the championship team of 1952-53. A special highlight of the game was the steady defensive play of the 73 year old former team captain. Before he came to Ryerson in 1951, Julian played for the Quebec Aces of the Quebec League where one of his line mates was former Leaf coach and GM, Punch Imlach. Julian is now retired in London, ON where he still plays hockey four times a week. Our hats go off to him.
In the post game ceremonies, Julian was presented with an Appreciation/Achievement award by Acting Athletic Director, Chuck Mathies.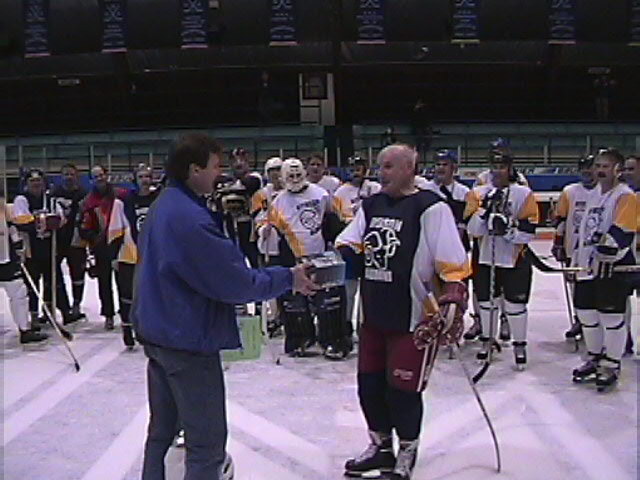 Alumni Game 2001 - Team Lineups

Official Ryerson Rams Hockey Alumni Athletic Therapist - Grant Woods

Team Blue

Last Name
First Name
Years Played
Pos
Num
Matias
Darren
1985-1989
D
16
Mitrovic
Mick
1994-1996
D
99
Sheffield
Franklin R
1975-1979
D
79
Smith
Julian
coach51 play52-53
D
14
Cascagnette
Mark
1988-1991
F
20
Coburn
Walter
1972-1974
F
11
Connor
Kevin
1980-1984
F
9
Cowie
George
1975-1978
F
19
Downey
Bob
1974
F
2
Downey
Mike
1972
F
27
Little
Ron
1982-1986
F
13
McElligott
John
1975-1979
F
4
Potter
Gary
1970-1971
F
7
Beall
Gordie
1976-1978
G
1
<! ------------------------------ white --------------------------->

Team White

Last Name
First Name
Years Played
Pos
Num
Hood
Jim
1967-1969
D
88
Jones
Brian
coach 70-82
D
99
Kantzavelos
Petro
1994-1996
D
24
Monteith
Dave
1977-1978
D
5
Pfaff
Joe
1969-1972
D
4
Sisson
Glen
1980-1983
D
19
Arbour
John
1976-1980
F
11
Fagan
Jerry (Taz)
1979-1983
F
23
Gabbana
Michael
1993-1996
F
25
Giffen
Terry K
1976-1979
F
13
Miele
Anthony
1994-1998
F
9
Protulipac
Michael
1975-1979
F
2
Stover
Kirk
1976-1979
F
10
Stoddart
Bob
1967-1969
G
1