The 2018-19 Ryerson Rams Men's Hockey Alumni Game was held on Saturday, February 2nd, 2019. Since the first annual RRHA Alumni game was played in 1999, this marks the 20th anniversary for this event.
February 2nd is also the late John Saunders' birthday and John's team mates from the 1970's got together for "The Birthday Game" and announced the recipient of The #4 Award, which is awarded annually in John's memory to the current Rams most valuable defenceman. Gregory DiTomaso was this year's recipient. You may read about the #4 Award here.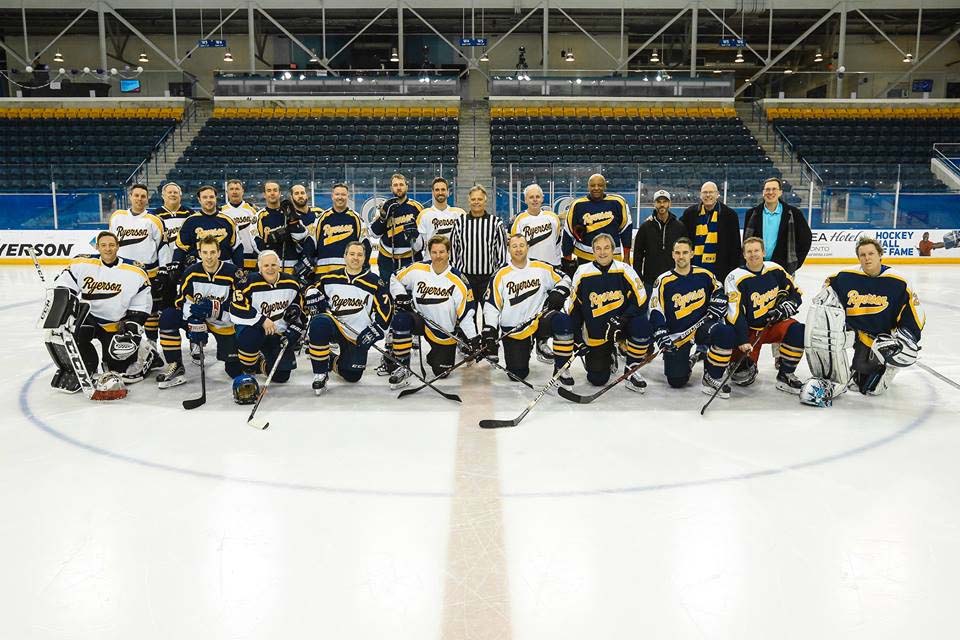 PLAYERS CONFIRMED:
Kevin Krasnowski
Stew D'Eall
Chris Sturino
Jay Kotack
Alex Sharpe
Louie George
Alex Fex
Dan Care
Don Wilson
Frank Sheffield
Troy Boudreau
Pete Hoppe
Josh McNair
Dan Collins
Kole Bryce
Darren Mattias
Chris Corrigan
Andrew Buck
Jason Cassidy
Kevin Day
Ian Richardson
Scott Brown
Steve Bewley
Greg Baiden
GOALIES
Austin Vandenboom
Felix Shterenfeld
OTHER RRHA ATTENDEES
John Arbour
Mike Barrett
George Cowie
Glenn Sisson
Larry Arsonault
The agenda for the day was as follows …
2:15-4:30 = Women's Varsity Rams 6 vs UofT 5 (OT)
4:30-4:40 = Flood (immediately following Women's game)
Family skate (cancelled due to lack of interest)
4:40-5:50 = Alumni game (immediately following flood) Team Blue 8 – Team White 6
6:15-9:00 = Alumni Lounge Open To Paying Participants & Their Guests
7:05-9:00 = Men's Varsity Rams 4 vs UofT 5 (SO) (#4 Award Presentation at Puck Drop)

More Details …
A reception was hosted after the Alumni Game in the Alumni Lounge with food, drinks and giveaways and the former Rams enjoyed some very entertaining hockey with the Rams crawling back from 4-1 to force overtime and a shoot out, but would eventually lose 5-4.