Andy Geracimo – 1939 – 2022
Ryerson Rams, 1958-59, 59-60, 60-61
Ryerson University Athletics Hall of Fame 2009
The remaining members of the Ryerson Rams men's hockey teams from 1958 to 1961 as well as the entire Ryerson Rams Hockey Alumni Family regretfully announce the passing of a well respected teammate as well as a loyal and generous Alumni member, Andy Geracimo #2 on 26 September, 2022.  
Andy came to Ryerson from Montreal and played defence for the Rams for three seasons along side his good friend Russ Jewell. He was a member of the 1958-59 OIAA Championship team and, with his teammates, was inducted into the Ryerson Athletics Hall of Fame in 2009.
He is best remembered by his teammates as having the strongest voice in the room as well for his many stories he loved to relay to the team. As former teammate Paul Cook noted "In our first season, Don DésJardine and I used to follow Andy and Bryan Webber around like puppies". He was the type of team leader every good team needs to bond together and play as a team.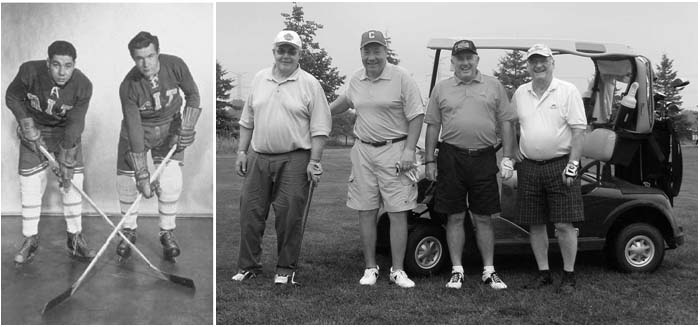 Left: Defense partners Andy Geracimo (L) and Russ Jewell in 1958.  Right: Teammates, Russ Jewell, Andy Geracimo, Bryan Webber and Don Taylor at the 2009 RRHA Golf tournament.
Following graduation from Ryerson, Andy returned home to Montreal where he initially ran the Geracimo Family restaurant, established in1889, until it was expropriated. In 1969 he joined Merrill Lynch as a Stockbroker. Researching a new franchise start up selling hamburgers for a family member, Andy went on to own several McDonald's restaurants in the Eastern Townships of Quebec and typical of many Ryerson hockey alumni of his era – went on to a very successful business career.
He also remained a very active member of the Ryerson Rams Hockey Alumni.  Along with several of his teammates, he regularly played in the annual RRHA Golf Tournaments. In addition, Andy attended Rams games when the team played in Kingston and also made trips to Toronto to catch games in Ryerson's new Mattamy Centre in Maple Leaf Gardens – and wasn't shy to relay his thoughts on the team's defence to the coaches.
As Andy cherished his Ryerson hockey memories and wanted so much to encourage today's teams and coaches, he regularly made substantial financial donations to the team. His generosity clearly helped the Rams develop into the top 10 level U Sports team it has become to-day. Prior to his death, he was in the process of establishing a very generous annual endowment for the team. However, he became very concerned with the Ryerson renaming Task Force and followed developments closely. When the decision was made to rename the University, as well as the team, in keeping with the tribute his family made to him in his obituary – "Andy lived his life on his terms and according to a certain code" – he terminated the endowment.
We extend our condolences to his wife Peggy, his children Michelle, Christine and Peter as well as his grandsons Connor and Charlie.
Submitted by: John Taylor #20 (Ryerson Rams 1962-65) with input from teammates Paul Cook and Don Taylor as well as Peggy Geracimo.