Bernard "Rusty" MacIver – March 8, 2017
Good Afternoon Johnny, I am writing to inform you that Bernard "Rusty" MacIver passed away on Wednesday, March 8, 2017. He was my father-in-law, and a very special person. He was a part of the Ryerson Ram Hockey family from 1954-55, and served as captain of the team for the 1954-55 season.
He spoke to Graham Wise on the phone several years ago. I am the scorekeeper for Ferris State Hockey, and I talked to Graham when Ryerson came to Ferris. He was kind enough to bring my father-in-law a t-shirt and a puck, and I was able to connect them. He wore the shirt often, and kept the puck proudly displayed. If you have any contact with Coach Wise, could you please pass that on?
I attached his obituary and a photo of him with the Ryerson team from 1955. He is the one wearing the "C" sweater. If you could also forward this to your alumni office, I would appreciate it. Thanks!
from MaryKay MacIver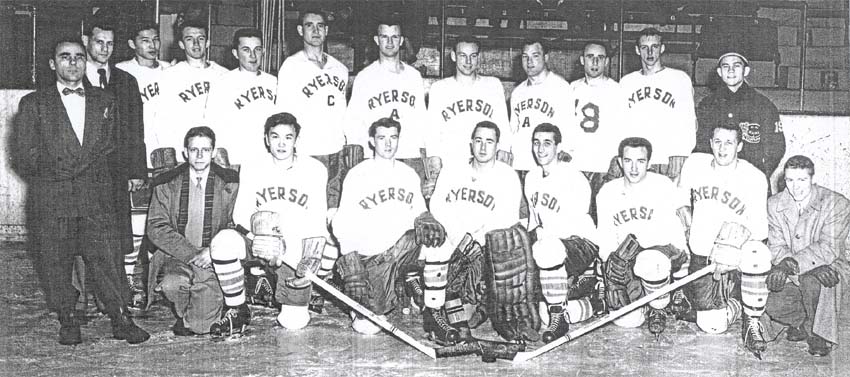 OBITUARY
Bernard Allan (Rusty) MacIver passed away peacefully at home with his family by his side on March 8, 2017. He was born on August 12, 1930 to Donald and Annie (Inch) MacIver in Rydal Bank, Ontario, Canada. At the age of 4, he moved with his family to Blind River, Ontario, which was always home to him.
He is survived by his sons Mark (Mary Kay) of Big Rapids, Michigan and Paul (Mary) of Ft. Gratiot, Michigan, grandson Andrew (Kristen) of Marquette, Michigan and granddaughter Karissa (Jason) Leach of Ruby, Michigan, brother Glen (Buddy) (Yolande) MacIver, sister Doreen Timmermans and Joanne Panabaker all of Blind River, Ontario and many nieces and nephews. He was pre-deceased by his wife Paula, his parents, his sister Verna and her husband John Hoeburg, sister Donna and her husband Emil Eastman and brother-in-law Paul Panabaker.
Growing up in Blind River, he enjoyed hunting and fishing with his father and brother. He fondly remembered bagging his first deer with a perfect shot at the age of 13 – a 200 lb, 6-point buck. Rusty also worked as a teen at the McFadden Lumber Mill in Blind River during the summers to help support his family.In 1943, his family purchased property east of Blind River and established the Mississaugi Motel, which is still operated by the MacIver family as the MacIver Motel.
As a young boy, Rusty received a Toronto Maple Leafs sweater for Christmas, along with a pair of homemade skates, which sparked a life-long love for the game of hockey. Rusty and his brother Buddy spent many years playing hockey in Blind River and along the North Shore in Northern Ontario. Both were scouted and signed to professional contracts, with Rusty at the age of 17 signing with the dream team of his youth – the Toronto Maple Leafs. A favorite memory was when he attended the prospects camp for the Maple Leafs. There, he met the Toronto coach "Hap" Day, who arranged for him to borrow a pair of skates from a Toronto player to replace the hand-me-down pair that he had brought to the camp. At that same camp, he met and became friends with the legendary Maple Leaf defenseman Tim Horton. They remained good friends until Tim was tragically killed in an auto accident in 1974.
Rusty was assigned to play with the Maple Leafs farm team, and left home at the age of 18 to pursue his career in hockey. Unfortunately, injuries forced a return to Blind River where he finished high school. During that time, he was recruited to and played with the Detroit Red Wings farm team. Afterwards, he continued his hockey career playing for the Soo Greyhounds in Sault Ste. Marie, Ontario. After 2 years with the Greyhounds, he was accepted to the Ryerson Institute of Technology in Toronto, Canada, where he played for the college's hockey team, serving as captain of the team. After graduating with an associate's degree in electrical engineering, he left hockey behind and started his engineering career. He met and married the former Paula Ruoppof Highland Park, Michigan in 1957, and they made their home in Elliot Lake, Ontario where Rusty was employed as an electrical engineer in the mining industry. Their family grew with the addition of two sons.
Rusty and his family immigrated to the US in 1959 and Rusty began a career at the GM Tech Center in Warren, Michigan. He attended classes at Wayne State University and graduated with a bachelor's degree in Electrical Engineering. During that time, Rusty and Paula purchased a home in Lathrup Village, Michigan, where they lived for many years. He also continued his interest in hockey by coaching for the Southfield Youth Hockey Organization, where he coached several players who reached the Division I NCAA level. He also taught both of his sons to love the game.
In his long career with the Tech Center, Rusty's research work resulted in 22 patents for General Motors. One of his patents for a pressure sensor brought him national accolades, including the GM McCuen Award. To this day, his invention is a part of most automobile engine control systems.
He retired from GM in 1988 to split time between their winter home at Ramblers Rest in Venice, FL and their summer home at Lake Duborne in Blind River, Ontario. Rusty and his wife Paula were lifetime members of the OWU Battlepoint Association, and enjoyed spending time with their many friends at Lake Duborne. Rusty has made his home with son Mark in Big Rapids for the past several years. A service will be held at a later date in Blind River. Memorials can be made to Great Lakes Caring Hospice or the MacIver Family Scholarship Endowment at Ferris State University.